TSG Emporium
'Needlelace Page'
The 'Milverton Sampler' by Doreen Holmes of Needlelace
This sampler belonged to the Somerset County Museum Education Service. When they were reviewing the collections it was transferred to the Curator of Costume and Textiles at Glastonbury Museum. It is now part of the Somerset Heritage Service. Glastonbury Rural Life Museum is well worth a visit to see how people lived and worked all those years ago and there is a delightful Tea Shop as well.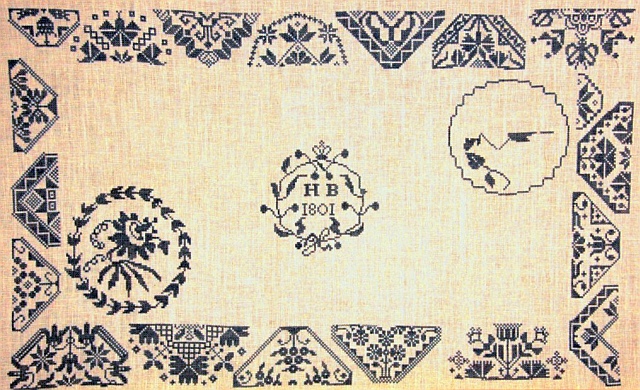 The original was worked with a brown thread on linen. Unfortunately we have no information about the girl who worked the original, just initials and a date...but of course they may not be her own initials. I am not sure that she enjoyed working her sampler because, there are so many mistakes that one is left with the impression that she 'lost heart'. I have included most of the mistakes in this reproduction, only correcting those that were such a muddle that they were undecipherable.
Milverton School was a privately run Quaker school in the Friend's Meeting House, situated in the high street in Milverton near Taunton, Somerset. . Sadly the school is no longer there.
This reproduction sampler has been worked using :
slate blue spun silk 100/2, on 40 count, cream linen and dark green spun silk 100/2, on 40 count flax linen
The sampler measures 17 ½ inches wide, x 11 inches long and is worked with a single strand over two threads.
The kit includes, chart, photograph and 200m spun silk.
The 'Milverton Sampler' kit is priced at £22.00 plus p & p.
Please contact Linda to order.
The 'Martha Gilbert Sampler'
by Doreen Holmes of Needlelace

This is a copy of the Martha Gilbert Sampler held in the Taunton Museum. It is a faithful copy with her mistakes included. She improved as she worked because there are fewer mistakes towards the bottom of the sampler, either that or someone else helped her!

We have no information about Martha Gilbert, so we would be very grateful if anyone out there could throw some light on her.

Available immediately.

The 'Martha Gilbert Sampler' is available at £9.50 plus p & p.
Please contact Linda to order.
Linda Hadden
The Sampler Guild
4 Courtfield Drive
Maidenhead
Berkshire
SL6 6JG

E-mail: linda@thesamplerguild.co.uk
Telephone: +44(0)1628-634274
Click here to go back to TSG Emporium 'Contents' page
Preserving the past for the future...
© The Sampler Guild - 2013